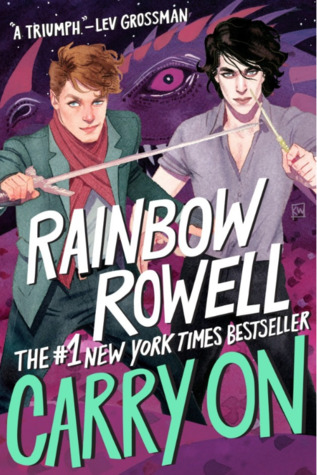 This book is the work of Rainbow Rowell who I am not that familiar with but she is a successful romance author. This book has a loose relation to her other book with title "Fangirl". In which this book is the Harry Potter alternate version in the world of Fangirl.
The main character of this book is Simon Snow, the chosen one. He is a student in a magical school in England, for his eighth and final year. He has a roommate named Baz who is a vampire and has been trying to kill Simon since they first met. But Simon is worried when he finds out that Baz doesn't come to school. Simon thinks that he is planning something. At the same time, the threat of Humdrum, a monster who's creating holes in the magic where no one inside the hole can use magic, is getting bigger.
This book has a strong Harry Potter vibe. The writing is good and the characters are well written. Simon was not the typical chosen one and Baz is not the cliched vampire. Simon's best friend Penelope is a very good female character. The world and the magic system are alright. I can't say much since Rowell doesn't go deep but I think it's because this is a standalone novel. What is not good about this book is the plot. There are some plot twists who have not been done very well. The ending of this book is not satisfying. This book has a rather strong romance but it also has this sense of danger and because of that, the final confrontation falls flat. Harry Potter doesn't have many actions unless you think pointing a wooden stick and yelling as action, but Rowling was able to write a scene that feels dangerous without it have to be physical even if it's just the characters talking. I think this has to do with what Rowell has written. She's a romance author and as such it's not that surprising that there's some aspect of fantasy and fighting that she can't do right.
Rating: ★★★
Recommended: If you want to read fantasy with gay romance.