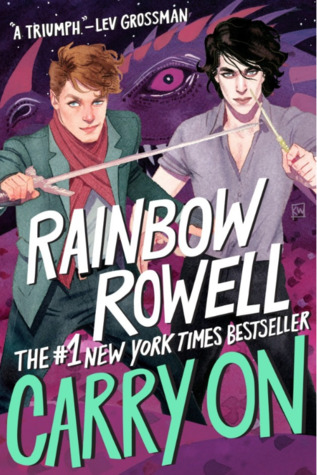 Why I read this book: because it has a gay romance. Also, magic.
The main character of this book is Simon Snow, the chosen one. And he has a vampire roommate; Baz. Both of them never get along. A chain of unfortunate events happen to him; his mentor's avoiding him, his girlfriend broke up with him, and there's a magic-eating monster running around, wearing Simon's face. And then Baz doesn't show up in their last year of school.
When I read the first few pages I got hit by Harry Potter vibe. Which is a good thing, I suppose. There's no problem with the writing and the main characters are engaging and have past. There also many diversity in this book. The author also breaks the old mentor trope. The female characters are not a lamp with sexy curves. But what's not a good thing is the magic in this world. Oh, the author does spend some time with it, but not enough. I think I listen too much to Brandon Sanderson writing advice and lectures. And the romance also receives a similar treatment. On plot twist, I also able to guess what will happen, and the ending is also a bit dissatisfying because of the final confrontation is a bit shallow and bare but I think it's not that surprising considering what the author wrote before.
Conclusion:
If you want to read fantasy with gay romance try this.